Firm Overview
Zealous, Ethical Personal Injury and Workers' Compensation Representation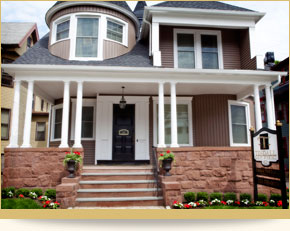 At Tindall Law Firm, LLC, our practice thrives on attorney and client referrals. In addition to the results we obtain for clients, our community involvement and reputation among fellow Connecticut legal professionals continually earns referrals for the firm. Our firm has been voted by the citizens of Waterbury as the top law firm in the Greater Waterbury area both in 2018 and 2019 through the Waterbury Observer readership poll.
Attorney Tavis Tindall and the staff work hard for clients every day. We all want to see clients receive the justice and compensation they deserve. As a family-based business, our staff is close, and we extend that friendly, caring attitude to our clients. We treat our clients as if they are our own family and truly care about them as more than just a number. It is this quality along with superior service and competent representation that has allowed us to become the "lawyer for life" for all of our clients and their families and friends to whom they refer us.
With two full-time Spanish-speaking assistants, we are also able to provide excellent service to Spanish-speaking clients. Our bilingual staff allows us to work directly with a diverse client base as well as experts and witnesses who may offer vital input or testimony in your case.
As part of our commitment to client service, we utilize high-tech communications, including smartphones. Clients receive Mr. Tindall's cell number and are able to text and call him. When you work with our firm, attorney Tindall makes a point of being accessible. Given the concerns over COVID, we interact with our clients over the phone, land texting, email, and utilize virtual video interactions with our client through Zoom, Teams, Whats App, Facetime, etc. We also are a digital office that utilizes technology for clients to sign documents from the comfort of their home via e-signing technology. He will take your case from beginning to end, instead of passing the case off to an associate like many firms
We devote the necessary time and resources to each case to optimize the results. We are willing to do the work and spend the money necessary to build strong cases for compensation. Opposing attorneys and insurance companies know that we are always thoroughly prepared and willing to go to trial when that is in our client's best interests. In many instances, this reputation for thorough, aggressive representation leads to favorable settlements without the need for a trial.
For a free consultation, please call our Waterbury personal injury law firm at 203.755.0018 or contact us online. Our office provides a welcoming, comfortable environment set in a refurbished Victorian house. Evening and weekend appointments may be available by request.